SOQHA Challenge Concludes With 4,700 AQHA Entries Over Two Days!
Posted: May 14th, 2018
By: Brittany Bevis, The Equine Chronicle
A challenge of sorts was presented to the show management team of the Southern Ohio Quarter Horse Association Challenge. How many entries can one show hold in just two days? The answer may surprise you…
The two-day event that took place at the World Equestrian Center in Wilmington, Ohio over the weekend recorded almost 1,200 AQHA entries per judge. With four judges, that added up to nearly 4,700 AQHA entries alone! And that number doesn't include NSBA entries. Judges for the show were Jeff Mellott, Ryan Kail, Brad Kearns, Curtis Reynolds, John Boxell, Allen Mitchels, TW Grose, and Steve Meadows.
One of the highlights of the show each year is the SOQHYA Scholarship Challenge. In order to participate, youth competitors were asked to pick their three best classes, in addition to one Halter class. A total of $9,500 in scholarship money was presented at the show this year. Congratulations to the big winners!
Small Fry Champion – $1,000 – Quincy Clagg with Vallejo Zipntill Dark
Small Fry Reserve- $500 – Shayne Gilliam with Hes Suddenly Handsom
L1 Youth Champion – $1,000 – Savannah Relick with Goodbar Had A Dream
L1 Youth Reserve Champion – $500 – Abby Wirick with Theres No Escaping
13 & under Champion – $1,500 – Lyla Bellar with Potentially Money
13 and Under Reserve Champion- $1,000 – Issie Himes with Assets Miss Reba
14-18 Champion – $1,500- Mallory Vroegh with Krymsun Belle
14-18 Reserve – $1,000- Lily Anderson with Hez A Croud Pleaser
Second Chance Champion- $1,000 – Caroline Fredenburg with Ima Tuff Barpasser
Second Chance Reserve Champion-$500 – Madison Burlett with Im Too Sleepy
Because The Challenge has a big focus on youth competitors, the very popular Congress Classroom was incorporated into the show again this year. A special area with wireless internet and a printer has been set up for kids to stay on top of their academics during the show. The program will also be in place during The Madness this week.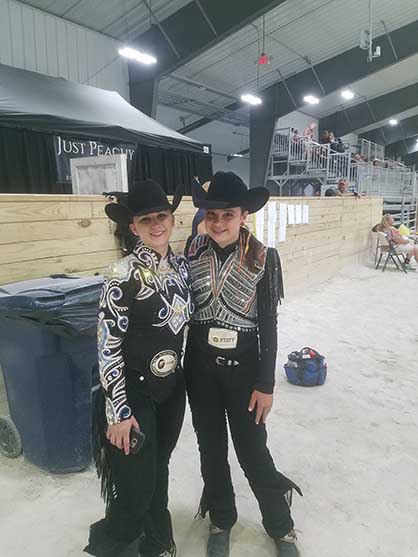 A new addition to both shows this year are Joint High Point Awards. Show at both The Challenge and The Madness and have the chance to win a Harris Leather and Silverworks Work Saddle! Prizes will be presented through fifth place.
The SOQHA Challenge was the precursor to the SOQHA Madness that kicks off tomorrow in Ohio. The show office will be closed today and will reopen on Tuesday at 9 am for entries. Enjoy the day off today with an Exhibitors' Party at 6 pm in the beautiful Paddock Club.
Scroll below to view more fun photos from the show.
The SOQHA Madness will take place May 16-20. Click here for more details about the show. Stay tuned to EquineChronicle.com for results and photos coming from the show.